O-Lynx Touch
Fast and easy entry of competitors into the O-Lynx software.
O-Lynx Touch is software to allow individuals at orienteering events to register themselves easily for a course before a competition without assistance. It reduces the workload and stress required to run an event. It cuts the time for registration for those with their own Sportident card and even for those with a hired one. It allows individuals to run a second course simply – they can re-register themselves while keeping the same SI chip number.
O-Lynx Touch is used and included with the O-Lynx Event software.  While O-Lynx Touch optimised to be used with a touch-screen device, you may also use O-Lynx Touch on any windows computer with a mouse.
If you want to learn more about O-Lynx Touch, then please download O-Lynx Touch to trial and/or manual via the links below.
 Watch the following short video to see O-Lynx Touch in action.
Simple 4 step process for a competitor to enter themselves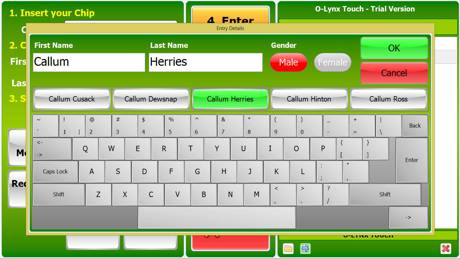 Pop up keyboard for people with hire chips includes archive look-up for super quick entry.
Optional club buttons make O-Lynx Touch even more versatile.
Keyboard supports entry of international characters.
Chip Checker – allows you to 'teach' O-Lynx Touch all of your club chips. Then at the finish of the clubs events they can be punched and sorted into bags. Chip Checker will identify any missing chips and produces a report in CSV format for the event. Has also been used to log chips as competitors enter the start area of an adventure race and produce a easy to read CSV file.
Chip Registration – assign Chips to entries by scanning or entering the bib number. This screen removes the need to pre-assign chips as the chip number can quickly be entered by punching as they are handed out on race day.
Registration Check – lookup entry details by punching or entering the chip number. Allows people to self check their details and start time or can be used by start officials to confirm the entry information.
See my blog post …
or for an end user experience of O-Lynx Touch as well as the O-Lynx Results system
Features
Automatically renumber chips if the previous competitor has downloaded
Log entries to a CSV file as a backup to the event computer
Touch friendly directory browsing
Use extended characters in competitors names using the touch keyboard
Up to 42 courses
Club quick find using first letter of club
Chip Checker to keep track of a clubs hire chips
Use Full screen on a tablet or windowed when used on a PC
Show optional custom field entry to fill out Text1 fields with custom data e.g. phone number
See the download page
Pricing
The O-Lynx Touch license is included in the O-Lynx Event license
How-to
While most often used with a basic WIFI router at the event, the following video shows connecting up a tablet with O-Lynx Touch using a wired connection.

Hardware
O-Lynx Touch works with computers with Windows 7, 8, 10, 11 but is optimised for Windows tablets running a resolution of 1366 x 768.
The following tablets are known to have been used by clubs operating O-Lynx Touch ….
Samsung Ativ 500, ASUS Vivo ME400C ( with mini USB to full USB adapter ), Windows Surface Go ( with USBC to USBA adapter )
( If you are using different hardware, let us know so that it can be added to the list )